UECC's new fleet features the world's first hybrid vessels for vehicle transport, which are capable of running simultaneously on diesel, natural gas and a bank of batteries, to improve the vessels' energy efficiency and reduce emissions, as well as being equipped to run on any other type of fuel in the future.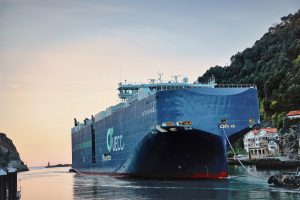 The Noatum UECC terminal in Pasaia forecasts positive results for the automotive sector, with projections of up to 240k vehicles for this year, positioning 2022 as a transition year.
The new vessels are being built in China, with a length of 169 metres and the capacity to carry up to 3,600 vehicles across 10 decks. The first of these, the Auto Advance, was built last year and passed through Pasaia last Monday to follow its route towards Northern Europe. The vessel is expected to become part of the rotation that UECC operates between Santander-Pasaia-Zeebrugge-Southampton-Santander.
The Auto Advance is consigned and stowed by Noatum UECC Pasaia and approximately 1,075 units have been loaded at the Basque terminal this week, mainly vehicles from Opel, Citroën, Mercedes, Volkswagen and Iveco.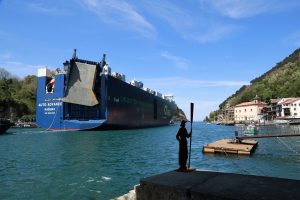 The upgrade from 140 metres in length to 169 metres is a significant increase in cargo capacity and an opportunity to improve the flow of goods, considering that this new fleet is not only capable of carrying vehicles, but also ro-ro cargo of all types, such as cargo that is loaded in mafi and which may include general cargo.
As a port terminal, we are committed to providing the necessary equipment and facilities to handle the volumes of cargo we receive, and we place particular importance on promoting and maintaining energy efficiency in our operations.