The Marmedsa Cruise Services division is a service company in the cruise industry sector, and provides value-added services, offering comprehensive tailor-made solutions for this sector.
The new division is headed by Albert Pallarés, who has been appointed Managing Director, with Marta Rodríguez as General Manager. Both are leading professionals in the sector.
The company has a strong presence in Spain, France, Portugal, Morocco and Algeria, with its own offices in 55 ports.
Madrid, 8 April 2019 – Noatum Maritime, the leading maritime, logistics and port services company, today announces the creation of Marmedsa Cruise Services, a new division focused on providing specific services for ships in the cruise industry.
This sector, which has major potential for growth, requires specialised operations and solutions in which Marmedsa Cruise Services has the best experts and resources, as well as a network of its own offices in Spain, France, Portugal, Morocco and Algeria.
Marmedsa Cruise Services, which is based in Barcelona, has benefited from more than 50 years of experience when designing its differential positioning strategy. Its extensive network of its own offices means that Marmedsa Cruise Services can offer a comprehensive and tailor-made service, with a portfolio ranging from solutions and shipping agency for cruise ships, to port services, goods logistics, boarding and disembarkation of passengers and programming of excursions, as well as any other service that the operator needs.
In addition to the sectoral and geographical diversification that has made the creation of the company possible, its other strengths include the appointment of Albert Pallarés as Managing Director, and the recruitment of Marta Rodríguez as General Manager of the division.
Antonio Campoy, CEO of Noatum Maritime, says: We have always been present in the cruise sector, which we know very well. It's a sector that is growing and which needs more customisation and more diversification. That's why we believe that this new Marmedsa Cruise Services division could be very positive for the sector, as it benefits from the synergies of our extensive network of offices, and from the whole range of activities that it requires, which with us will be focused on a single partner".
According to the Managing Director, Albert Pallarés, "This division will reinforce our position as leading players in this sector, providing comprehensive solutions of the highest quality in an activity with great potential for growth".
Marmedsa Cruise Services is being officially presented at Seatrade Cruise Global, a leading international event for the cruise industry, which is attended by more than 11,000 industry professionals and 130 represented countries, and takes place in Miami from 9 to 11 April.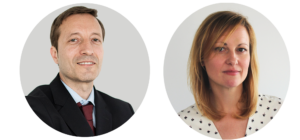 Albert Pallarés        Marta Rodríguez