Noatum Terminal Malaga closes the first quarter of the year with a very positive traffic figure: more than 110,000 TEUs have passed through our terminal.
By March, 55,923 containers (76,325 TEUs) had already been handled at the terminal, a figure that has increased to more than 100,000 TEUs by the end of the quarter.
During the first week of April, 8 ships passed through the terminal, among them the container ship MSC ELLEN with 4,876 containers (7,543 TEUs), so far in April we have reached 37,286 TEUs and 23,928 containers in the terminal.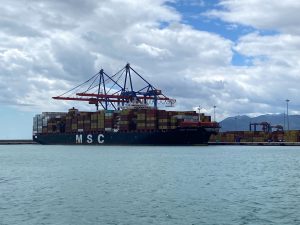 Many regular lines dock at this terminal on a weekly basis to carry out import, export and container transhipment operations. On the other hand, it has also received an important volume of other types of traffic, mainly vehicles as well as solid and liquid bulk.
The Terminal has an infrastructure adapted to handle a wide range of products, in addition to 360,000m2 of surface area and state-of-the-art equipment, including 5 gantry cranes, capable of handling more than 600,000TEUs per year.
In the words of Noatum Terminal Malaga's CEO: "It is to highlight the excellent performance of all the teams working in and for our terminal. A year full of challenges and opportunities awaits us and we have to continue with this level of demand, offering port services of high productivity in order to achieve all the proposed objectives".