Noatum Terminal Tarragona, Noatum Group's terminal in the Port of Tarragona, has carried out the largest alfalfa export operation to date in this port and in Spain, in terms of the number of tonnes and the loading speed.
The loading took place at the Castilla Oeste dock, specialised in agri-foodstuffs operations, where the ship Astra Perseus, in charge of the transport to Southwest Asia, was berthed.
The 46,200 tonnes of alfalfa were stowed in just 45 hours of continuous work, with the only interruptions being the necessary change of staff at the end of their working hours. A record time for agri-food logistics and a milestone in terms of the quantity of goods loaded, because until now shipments used to reach a maximum of 30,000 tonnes.
The loading of the goods was performed in compliance with all the standards of prevention, health and safety at work, and quality, strictly following the applicable regulations according to the certifications that endorse our operations.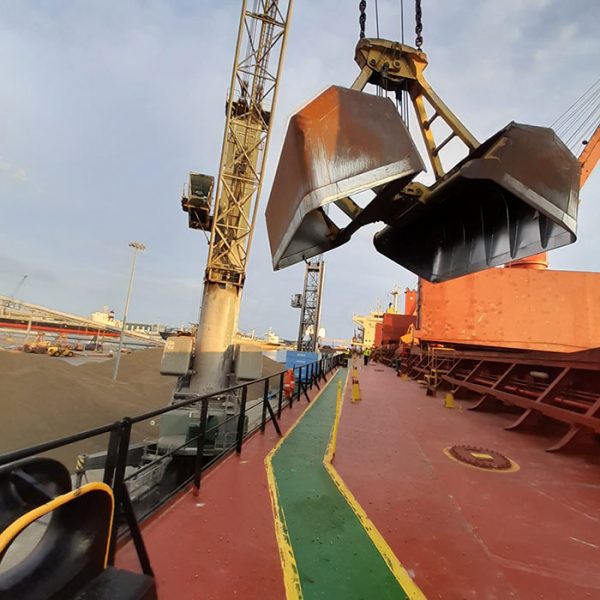 SPECIALISATION AND MAINSTREAMING
This record highlights Noatum's experience in the agri-foodstuffs sector, one of the most important traffics of the Port of Tarragona for supplying and distributing the products of agricultural and livestock companies located in Aragon and Catalonia. The Noatum Group's terminal in Tarragona is highly specialised in the handling of agri-foodstuffs cargo and has the necessary machinery to successfully complete this and other types of operations, such as large cranes, unloading hoppers and conveyor belts connected to the warehouses.
But the greatest satisfaction in achieving a success like this is logistics working in unison, with the Noatum imprint in the whole process, and the excellence provided by the mainstreaming of the Noatum Group's services for the benefit of our clients:
Noatum Terminal Tarragona managed the reception, loading and stowage of goods, as well as the coordination of road transport from the different production centres to the Port of Tarragona,
Noatum Maritime was the company that chartered the vessel,
Marmedsa Noatum Maritime was the consignee agency at the port, and
Noatum Logistics managed the customs clearance and other documentary formalities necessary for the export operation.