Noatum joins the list of over 40 companies and institutions- from different sectors and disciplines- which will be participating this year at the 9th edition of JOBarcelona, the International Talent Acquisition Career Fair that will be held online between 15 and 17 June, aiming to provide opportunities and professional guidance to the best Junior Talent. Noatum's participation is intended to raise awareness of the professional opportunities offered by the Group and our various programmes for both internships and graduates looking to enter the job market.
On 16 June at 5pm Maria José Gutiérrez, Sara Galindo and Runqian Li, will be online via the link to our webinar to present the Group and the career opportunities it offers, with the possibility of answering questions live.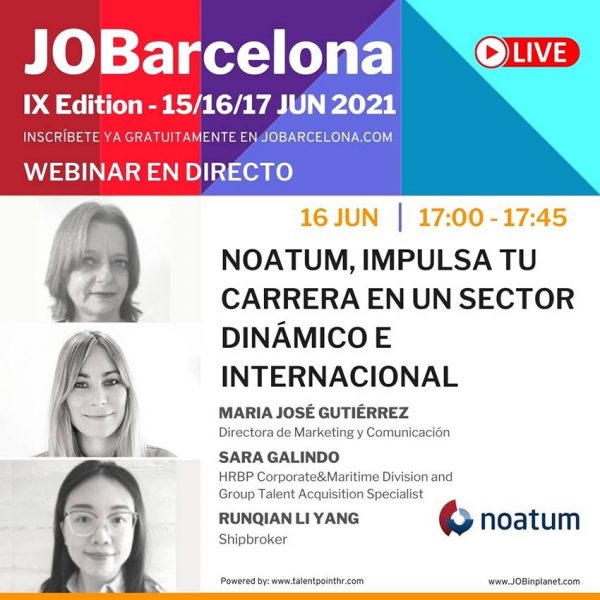 Meet the speakers of the webinar:
Maria José Gutiérrez, Marketing and Communications Director, expert in global corporate communications strategy, digital marketing and brand architecture with 29 years of experience in the Noatum Group.
Sara Galindo, Human Resources Business Partner of the corporate and maritime division at Noatum Group and specialist in recruitment and people development.
Runqian Li Yang, cwith a background and experience in finance, decided to widen her knowledge in the commercial world by completing a master's degree in Shipping Business. From there, she got to know the exciting business of ship chartering and decided to enter this sector with Noatum through one of its young talent programmes. She currently holds the position of shipbroker in the maritime sector.
Participation in JOBarcelona is free of charge. Candidates must register beforehand at www.jobarcelona.com to access exclusive information, apply to the offers already published by the participating companies and to all the conferences to obtain the invitation link.