Noatum attended the 2022 Breakbulk Europe Exhibition & Conference with our Noatum Project Cargo division and Noatum Terminals, in Rotterdam, NL.
The world's largest project cargo and breakbulk event took place in Rotterdam with over 10000 participants reported from over 120 countries, in which we were present with our own stand. Our stand served as our business operation centre, giving us the chance to network and to continue strengthening the global strategy in order to increase the visibility of our Group and its specialised divisions, as well as make numerous valuable contacts.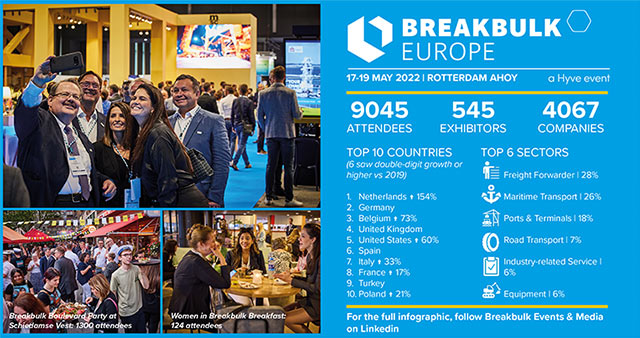 In addition, some of our colleagues attended the Women's in Breakbulk Breakfast. The perfect occasion to connect internationally with women in the industry.
We keep creating a presence in the industry media. Noatum Project Cargo CEO, Daniel Berasategui, shared his point of view about the importance of this event in a leading industry newspaper, El Diario del Puerto, where he assures that Breakbulk Europe is a "business opportunity for future projects."
We also had a wide representation of professionals from different business units and specialised divisions: Noatum Logistics, Noatum Chartering, Marmedsa Noatum Maritime, Noatum Port Logistics and Noatum Automotive & RoRo.
A very innovative highlight of our stand was the paperless format, which is in line with our ESG policy. No promotional material was printed and the use of reusable cups was promoted during the event.
This year's Breakbulk was a complete success; we can't wait to see you again next year!